Details

July 13, 2023
Crematory Operator Certification - Includes 2 Hour Crematory Laws & Rules
Online Registration is Open!
OFDA Office, Columbus
Crematory Operator Certification In partnership with ICCFA
How to Register:
Download the Registration Flyer!
Registration Fees:
Member: $395
Non-Member: $595
Cancellation Policy:
All cancellations are subject to a $25 Administrative Processing Fee
For full refund (minus administrative processing fee), OFDA office must be notified 24 hours prior to the start of the scheduled program
The Program:
Note: This program is intended for individuals who want to apply and obtain their Crematory Operator Permit with the State of Ohio Board of Embalmers and Funeral Directors. It may also be completed for those whose Crematory Operator Certification is due for renewal. The certification is good for five years.
ICCFA's Crematory Operator Certification program is a dynamic one-day course, where attendees are encouraged to participate, engage and ask questions. Attendees will learn how to operate a crematory retort properly and effectively and limit the liability for themselves and their company. This extensive training curriculum includes:
professional terminology
incinerator terminology
principles of combustion
cremation and the environment
incinerator criteria and design
in-depth look at the basics of operating cremation equipment
general maintenance and troubleshooting common problems
overview of cremation and its impact on the environment
forms and record keeping
proper steps for identification; exposure control, and liability concerns
risk management.
Attendees will receive a comprehensive Operations Manual covering all aspects of crematory operation and maintenance and are required to pass an open-book, online test to receive your certification as well as CE credit. Missing five or more questions means that you fail the test. You will be allowed to take the test a second time to try to receive a better score. If you miss five or more questions on that test, you will need to take the training course again before trying to pass the test another time.
Program Schedule:
Arrival/Registration: 8:00 am
Program: 8:30 am - 5:00 pm
CE Information:
All attendees will receive a comprehensive Operations Manual covering all aspects of crematory operation and maintenance. The Operator course includes two hours of laws and rules relevant to Ohio and specific to crematory operation as well as one hour of Ethics guidance. Pending approval, 7 Total CE credits will be available through the State of Ohio Board of Embalmers.
7 Total CE that includes:

4.0 Hours General
2.0 Hours of Ohio Crematory Laws and Rules
1.0 Hour Ethics

Note: CE applied for by ICCFA and pending approval with the State of Ohio Board of Embalmers and Funeral Directors
Venue Location:
The program will be located at the OFDA Headquarters, 2501 North Star Road, Columbus, OH 43221. Parking is located behind the front of the building, off of College Hill Drive.
Nearby Hotel Options:
Homewood Suites by Hilton® Columbus/OSU
1576 W. Lane Avenue, Columbus, OH 43221
T (614) 488-1500
TownePlace Suites by Marriott® Columbus North-OSU
1640 W. Lane Avenue, Columbus, Ohio
T (614) 486-5433
Meet Your Trainers:

Poul Lemasters, Esq., Lemasters Consulting & ICCFA Cremation Counsel

Poul uses his unique background in both deathcare and law to provide resources and counsel to other deathcare professionals. He gets calls for assistance in risk management, daily operational conflicts, form and contract reviews, valuations, and regulatory matters. Basically, all the exciting issues our profession has to offer. Poul advises several funeral home, crematory, cemetery, and trade associations across the United States. He is also the publisher of Parliament magazine.

Larry Stuart, Jr., Raven Plume Consulting

Larry is the Founder of Raven Plume Consulting, and the former President of Crematory Manufacturing & Service, Inc., a leading manufacturer of technologically advanced cremation equipment. Raven Plume Consulting provides expert leadership, planning, organization, training, education, process improvement and strategic planning for the cremation profession.

Larry is a graduate of Kent State University and is a former member on the Board of Directors of the Cremation Association of North America, and Editor in Chief of The Cremationist magazine, published by CANA. Larry is also a Cremation Coach for the International Cemetery Cremation and Funeral Association as (ICCFA). Larry is also a past member of the National Funeral Directors Association (NFDA) Exhibitor Advisory Committee and is currently a Trustee and President of the NFDA Heritage Club. Larry is also a Certified Celebrant, certified by The Insight Institute.

Throughout his experience Larry has seen first hand the negative impact that poor crematory maintenance and improper operating procedures can bring about. Larry has written articles, developed cremation curriculum, spoken at numerous professional events, and trained and certified thousands of cremation professionals across North America with a mission to advance the safety and efficiency of cremation facilities, the safety of their employees and to foster a more positively impact our community and our environment.
2023 Sustaining Sponsors: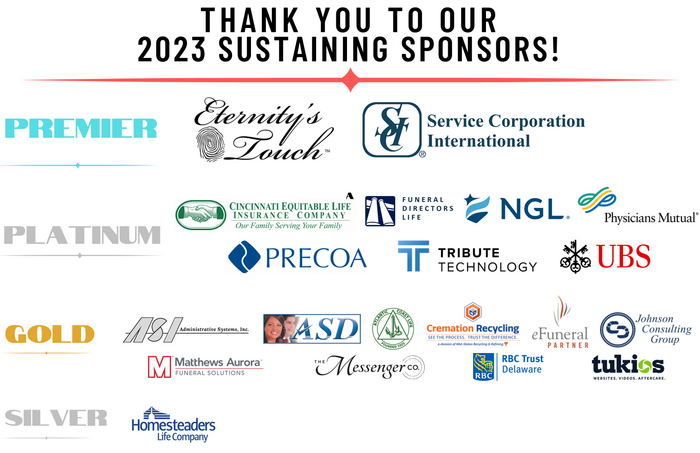 Add to Calendar
aCLuDhaqizCaPxAftmqF167204
07/13/2023
07/13/2023
true
Crematory Operator Certification - Includes 2 Hour Crematory Laws & Rules
Crematory Operator Certification In partnership with ICCFA How to Register: Register Online Here! Download the Registration Flyer! Registration Fees: Member: $395 Non-Member: $595 Cancellation Policy: All cancellations are subject to a $25 Administrative Processing Fee For full refund (minus administrative processing fee), OFDA office must be notified 24 hours prior to the start of the scheduled program The Program: Note: This program is intended for individuals who want to apply and obtain their Crematory Operator Permit with the State of Ohio Board of Embalmers and Funeral Directors. It may also be completed for those whose Crematory Operator Certification is due for renewal. The certification is good for five years. ICCFA's Crematory Operator Certification program is a dynamic one-day course, where attendees are encouraged to participate, engage and ask questions. Attendees will learn how to operate a crematory retort properly and effectively and limit the liability for themselves and their company. This extensive training curriculum includes: professional terminology incinerator terminology principles of combustion cremation and the environment incinerator criteria and design in-depth look at the basics of operating cremation equipment general maintenance and troubleshooting common problems overview of cremation and its impact on the environment forms and record keeping proper steps for identification; exposure control, and liability concerns risk management. Attendees will receive a comprehensive Operations Manual covering all aspects of crematory operation and maintenance and are required to pass an open-book, online test to receive your certification as well as CE credit. Missing five or more questions means that you fail the test. You will be allowed to take the test a second time to try to receive a better score. If you miss five or more questions on that test, you will need to take the training course again before trying to pass the test another time. Program Schedule: Arrival/Registration: 8:00 am Program: 8:30 am - 5:00 pm  CE Information: All attendees will receive a comprehensive Operations Manual covering all aspects of crematory operation and maintenance. The Operator course includes two hours of laws and rules relevant to Ohio and specific to crematory operation as well as one hour of Ethics guidance. Pending approval, 7 Total CE credits will be available through the State of Ohio Board of Embalmers. 7 Total CE that includes: 4.0 Hours General 2.0 Hours of Ohio Crematory Laws and Rules 1.0 Hour Ethics Note: CE applied for by ICCFA and pending approval with the State of Ohio Board of Embalmers and Funeral Directors Venue Location: The program will be located at the OFDA Headquarters, 2501 North Star Road, Columbus, OH 43221. Parking is located behind the front of the building, off of College Hill Drive. Nearby Hotel Options: Homewood Suites by Hilton® Columbus/OSU 1576 W. Lane Avenue, Columbus, OH 43221 T (614) 488-1500 TownePlace Suites by Marriott® Columbus North-OSU 1640 W. Lane Avenue, Columbus, Ohio T (614) 486-5433 Meet Your Trainers:   Poul Lemasters, Esq., Lemasters Consulting & ICCFA Cremation Counsel Poul uses his unique background in both deathcare and law to provide resources and counsel to other deathcare professionals. He gets calls for assistance in risk management, daily operational conflicts, form and contract reviews, valuations, and regulatory matters. Basically, all the exciting issues our profession has to offer. Poul advises several funeral home, crematory, cemetery, and trade associations across the United States. He is also the publisher of Parliament magazine.   Larry Stuart, Jr., Raven Plume Consulting Larry is the Founder of Raven Plume Consulting, and the former President of Crematory Manufacturing & Service, Inc., a leading manufacturer of technologically advanced cremation equipment.  Raven Plume Consulting provides expert leadership, planning, organization, training, education, process improvement and strategic planning for the cremation profession. Larry is a graduate of Kent State University and is a former member on the Board of Directors of the Cremation Association of North America, and Editor in Chief of The Cremationist magazine, published by CANA. Larry is also a Cremation Coach for the International Cemetery Cremation and Funeral Association as (ICCFA).  Larry is also a past member of the National Funeral Directors Association (NFDA) Exhibitor Advisory Committee and is currently a Trustee and President of the NFDA Heritage Club. Larry is also a Certified Celebrant, certified by The Insight Institute.  Throughout his experience Larry has seen first hand the negative impact that poor crematory maintenance and improper operating procedures can bring about. Larry has written articles, developed cremation curriculum, spoken at numerous professional events, and trained and certified thousands of cremation professionals across North America with a mission to advance the safety and efficiency of cremation facilities, the safety of their employees and to foster a more positively impact our community and our environment.   2023 Sustaining Sponsors:
OFDA Office, Columbus