Details

August 16 (1:00PM) - 18 (12:00PM), 2023
OFDA Certified Celebrant Training In partnership with InSight Institute
Registration is Open!
OFDA Office, Columbus
How to Register
Please note seating is limited to 30 attendees.
OFDA Member: $845
OFDA Non-Member: $995
Student: $695
Cancellation Policy
If an individual needs to cancel:
All cancellations

are subject to a $25 Administrative Processing Fee
45 days before training, 100% refund
30 days before training, 75% refund
15 days before training, no refund
Cancellation of the event may occur if minimum number of required registrants is not reached. Full refunds will be issued should this type of cancellation occur.
What is Celebrant Training and who is it for?
Celebrant Training is an intensive 3-day certification, training people how to provide unique and personalized funeral for families, specializing in those families who do not wish to have a traditional or religious based funeral.
Anyone who is interested in becoming a writer, creator and officiant at funeral services. Funeral professionals, clergy/chaplains, bereavement specialists, nurses, teachers, actors, businesspeople all have become Certified Celebrants.
CE Information for Funeral Directors
16.5 CE Hours, General, approved with the State of Ohio Board of Embalmers and Funeral Directors
0.5 CE Hour, Ethics, approved with the State of Ohio Board of Embalmers and Funeral Directors
Note: InSight Institute is approved for funeral service continuing education credit with the APFSP.
Schedule
Day One: 1:00 - 6:00 PM / Dinner on your own.
Day Two: 8:00 AM - 6:00 PM / Continental breakfast and lunch provided. Dinner on your own. You will have homework!
Day Three: 8:00 AM - 12:00 PM / Continental breakfast provided.
What to Bring
The Insight Institute will provide a notebook and other materials. If you have a laptop computer, it is recommended (but not required) that you bring it for the funeral presentation work. A printer will be available. Dress is casual.
Hotel
TownePlace Suites Columbus North - OSU
1640 West Alen Avenue
Columbus, OH 43221
OFDA group rate is $219* plus tax. Reservations must be made by Monday, July 17, 2023 to secure group rate. Hotel accommodations can be booked online through the link below or by calling (614) 486-5433.
* Hotels near the Ohio State University (OSU) Main Campus may have higher rates due to OSU Student Move-In week.
Reserve your room today with OFDA's exclusive group rate!
Download the TownePlace Suites Hotel Fact Sheet
2023 Sustaining Sponsors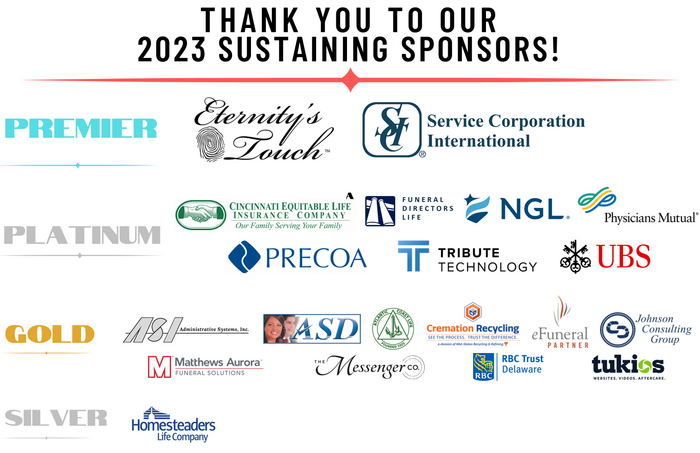 Add to Calendar
aCLuDhaqizCaPxAftmqF167204
08/16/2023 01:00 PM
08/18/2023 12:00 PM
false
OFDA Certified Celebrant Training In partnership with InSight Institute
How to Register Register Online Here! Download Registration Flyer Please note seating is limited to 30 attendees. OFDA Member: $845 OFDA Non-Member: $995 Student: $695 Cancellation Policy If an individual needs to cancel: All cancellations are subject to a $25 Administrative Processing Fee 45 days before training, 100% refund 30 days before training, 75% refund 15 days before training, no refund Cancellation of the event may occur if minimum number of required registrants is not reached. Full refunds will be issued should this type of cancellation occur.  What is Celebrant Training and who is it for? Celebrant Training is an intensive 3-day certification, training people how to provide unique and personalized funeral for families, specializing in those families who do not wish to have a traditional or religious based funeral. Anyone who is interested in becoming a writer, creator and officiant at funeral services. Funeral professionals, clergy/chaplains, bereavement specialists, nurses, teachers, actors, businesspeople all have become Certified Celebrants. CE Information for Funeral Directors 16.5 CE Hours, General, approved with the State of Ohio Board of Embalmers and Funeral Directors 0.5 CE Hour, Ethics, approved with the State of Ohio Board of Embalmers and Funeral Directors Note: InSight Institute is approved for funeral service continuing education credit with the APFSP. Schedule Day One: 1:00 - 6:00 PM / Dinner on your own. Day Two: 8:00 AM - 6:00 PM / Continental breakfast and lunch provided. Dinner on your own. You will have homework! Day Three: 8:00 AM - 12:00 PM / Continental breakfast provided. What to Bring The Insight Institute will provide a notebook and other materials. If you have a laptop computer, it is recommended (but not required) that you bring it for the funeral presentation work. A printer will be available. Dress is casual. Hotel TownePlace Suites Columbus North - OSU1640 West Alen AvenueColumbus, OH 43221 OFDA group rate is $219* plus tax. Reservations must be made by Monday, July 17, 2023 to secure group rate. Hotel accommodations can be booked online through the link below or by calling (614) 486-5433.  * Hotels near the Ohio State University (OSU) Main Campus may have higher rates due to OSU Student Move-In week. Reserve your room today with OFDA's exclusive group rate! Download the TownePlace Suites Hotel Fact Sheet 2023 Sustaining Sponsors
OFDA Office, Columbus